FreeGuide - your TV Guide
FreeGuide is a TV guide program. It allows you to find programmes you are interested in quickly, and ignore the rest.
Features
Create a personalised TV guide

containing only programmes you are interested in.

Display only channels you are interested in

and create several custom lists.

Automatically highlight favourites

and have them appear in the guide.

Search for programmes

by title, sub-title, channel, time etc.

Grid or list view

depending on your preference.

Works for many countries including Argentina, Canada, Croatia, Denmark, Estonia, European Union (Various), Finland, France, Hungary, Iceland*, Italy, Latin America (Various), Norway, Portugal, Reunion, Romania, Spain, Sweden, Switzerland, the United Kingdom and the United States.
(* - Linux only)
Note: If you are in North America, during the install you may choose the "United States (free alternative - na_dtv)" or "Canada (free alternative - na_dtv)" to get free TV listings. Alternatively you can pay for an account with Schedules Direct so you can download listings: SignUpForSchedulesDirect
Jump to: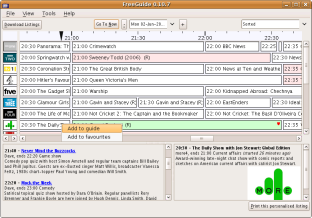 ---
FreeGuide is Free Software, distributed under the GNU General Public License version 2 or later.